What should you do?
If your child is interacting with you normally and is able to drink as normal, you can watch them closely at home. If your child is not feeding as well as normal, you should offer smaller feeds but more frequently.

If they become more breathless or start or are struggling to drink, they will need to be seen urgently by a medical practitioner. Please call your GP surgery (or call NHS 111 if your GP surgery is closed).

If your child has a fever, their breathing may become more rapid. You should try to lower their temperature using paracetamol (calpol and/or ibuprofen). For further advice on a fever, please see fever high temperature.
How long will your child's symptoms last?
Although your child's cough is likely to last for 2 to 3 weeks, they should not be breathless or wheezy for more than 3 or 4 days.

The charts below show how long croup or bronchiolitis last in children. The faces represent 10 children who have croup or bronchiolitis. Green faces are those children who have recovered within that time period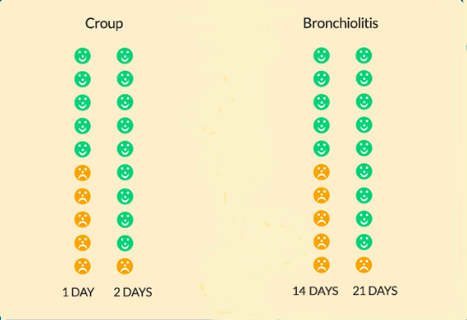 The diagrams above are taken from www.whenshouldiworry.com