Support & Advice in Hertfordshire for young people
Hospital youth work has been established for two years within the ENHT( Lister) and a year with WHHT (Watford General), within this time the project has engaged with 1043 young people. In addition to the youth work team is a community worker who accesses young people in school or community settings. Our Primary intervention is around the young person's social and emotional wellbeing which may be impacting their physical or mental health, our age range is 11-21. More information can be found here.
Herts Mind Network have a helpline for children and young people aged 10-17 and a Young People's online group for those over 15. The helpline provides a safe, non-judgemental space to talk to a Young People Advisor or Mentor who will provide emotional support, advice and information and discuss coping strategies. The helpline number is 01923 256391. For more information, visit the Herts Mind Network website.
Chat Health is a text messaging service for all secondary school aged pupils in Hertfordshire, run by the school nursing team. It is a confidential service and available Monday to Friday from 9am to 5pm. Young people can message for advice on all kinds of health issues such as sexual health, emotional health and wellbeing, bullying, healthy eating and any general health concerns. The team can also provide 1:1 support for emotional health and wellbeing and other health-related issues. The text number is: 07480 635050. Secondary school pupils can also follow the School Nurse Team on Instagram @teenhealth.hct. To start chatting click here.
The Health for Teens website has lots of local information and advice for young people in Hertfordshire.
YC Hertfordshire Services for Young People provides youth work, information, advice, guidance, work-related learning and support for young people. You can contact a Youth Worker or Personal Adviser for one to one and project group work support by calling 0300 123 7538, emailing yc@hertfordshire.gov.uk or visit their site here
If you are experiencing mental health difficulties that are significantly interfering with your ability to do the things you normally do, please contact (or ask your parents or carers to) Hertfordshire Partnership Foundation Trust Single Point of Access 0800 6444 101. This line is open 24/7 and can direct your enquiry to a number of specialist services depending on your needs.
The Wellbeing Service offers short term support to people that are 16 or over with mild to moderate mental health issues such as depression and anxiety. You can visit their website for more information about the service and to self-refer.
There are four community counselling organisations covering Hertfordshire:
YCT (East and North Herts)
Telephone 01279 414 090
Youth Talk (St Albans)
Telephone 01727 868684
Rephael House (Welwyn and Hatfield)
Telephone 020 8440 9144
Signpost (Watford and Hemel areas)
Telephone 01923 239495
The School Nursing Team provides some support around emotional difficulties and parents can refer directly from this their website.: You can read more about the School Nursing Team or watch a short animation about how a school nurse can support you.
Information sheet on how to stay positive & Healthy during coronavirus
Youth Link is a social prescribing service which creates connections and links Children and Young People to relevant and safe non-clinical provisions that can improve skills and provide support for health and wellbeing. Youth Link encourages the Child or Young person to work with the support network with the intention of developing reliable relationships.
Telephone 07510 927143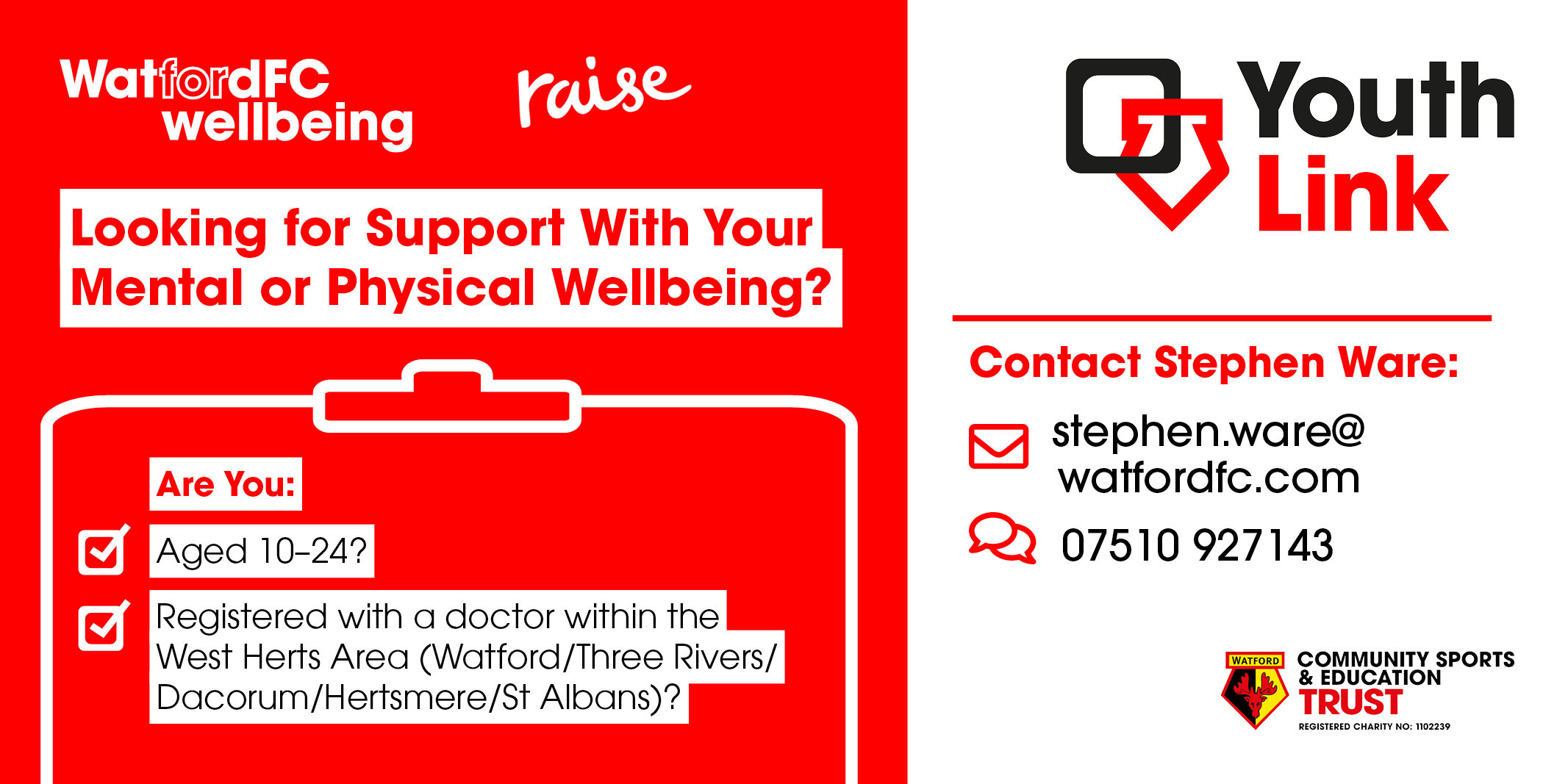 Blurt Foundation offers resources and also provides support and advice for young people suffering from depression.
Herts Youth Futures is a 1-1 mentoring support for individuals where there are barriers to education, training or employment. Once referred individuals are allocated a youth mentor, and support is tailored to meet needs. For ages 15-19 or for under 15s with a learning disability. For more information email: cyp@hertfordshiremind.org
Papyrus - Prevention of Young Suicide HOPELINE247 can give advice and support to anyone under 35 having thoughts of suicide or for those concerned for friends. Call: 0800 068 4141 Text: 07786 209697
Spectrum Families and Young People Services provides guidance to young people for drug and alcohol problems, for more information Call: 0800 652 3169 or Email: herts@cgl.org.uk